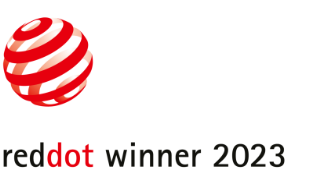 OTO chair, icon of a sustainable mindset is proud to have won the Red Dot Award 2023.
Special Mention: Ro plastic Prize 2023
Emerging High Technologies
Alessandro Stabile (Milan 1985) set up his studio in 2011 specializes in industrial design and art direction. In 2013 the Italian Cultural Institute of New York selected him as one of the ten Top Young Italian Industrial Designers In 2016 two of his projects won the first and second prizes in Young&Design as two of the best projects presented by an under 35- year-old at the Milan Design Week.. In 2022 Taco chair, designed for LaCividina, won the Archiproducts Design Award with special mention for sustainability. He is at present involved in the Creative Direction of four companies and he designs for brands such as Magis, Moleskine, Alessi and De' Longhi, with the aim of creating products that stand out for their innovation, ethics and elegance.
MARTINELLI VENEZIA is a design studio based in Milan and Palermo, founded in 2015 by the architects Carolina Martinelli and Vittorio Venezia. The studio deals with furniture design, exhibition design, architecture and interior design, exploring issues concerning the relationship between tradition and local culture, the material properties and the technical possibilities of manufacturing processes. Their work has been exhibited in galleries and museums such as the Musée du Louvre in Paris, the MAXXI Rome and the Triennale Design Museum in Milan. They collaborate with several Italian and international brands, including Abet Laminati, Alcantara, Colé Italian Design Label, DeCastelli, Falper, InternoItaliano, Jannelli & Volpi, Lithea, Luce5, Martinelli Luce, Meritalia, Mingardo, Moleskine, Premax, Slide.
Art, Design, Details
ADD is a highly experienced and specialized company that designs and produces exceptional furniture for shared spaces. With over 40 years of experience in the contract sector, ADD was founded with the goal of providing the market with modular furniture solutions that are both innovative and practical. They bring an international design approach and combine it with the technical skills of talented artisans from Veneto and the Italian taste for art to create furniture that is unparalleled in terms of quality and design. The name ADD is derived from the Latin word "addere" which means "to add". This reflects their unwavering commitment to adding art, design, and attention to detail into every single piece of furniture they produce, including chairs and lamps, using innovative technical solutions. Moreover, they are highly conscious of their environmental impact and prioritize sustainability by reusing quality post-industrial plastics, thus reducing the ecological footprint of their productions.
Techno Renaissance
ADD is surrounded by a constellation of talented artisans, including skilled second and third generation experts, who produce for some of the most prestigious international companies. These techno-craftsmen work with hands and sophisticated electronic devices to create products in a discreet and precise way, leaving no secrets in materials such as wood, metal, stone, and glass. For more than forty years, a family of manufacturing entrepreneurs has been dedicated to producing custom finishes with excellence. This unique approach combines technology and human touch to create a new Renaissance in the name of beauty.